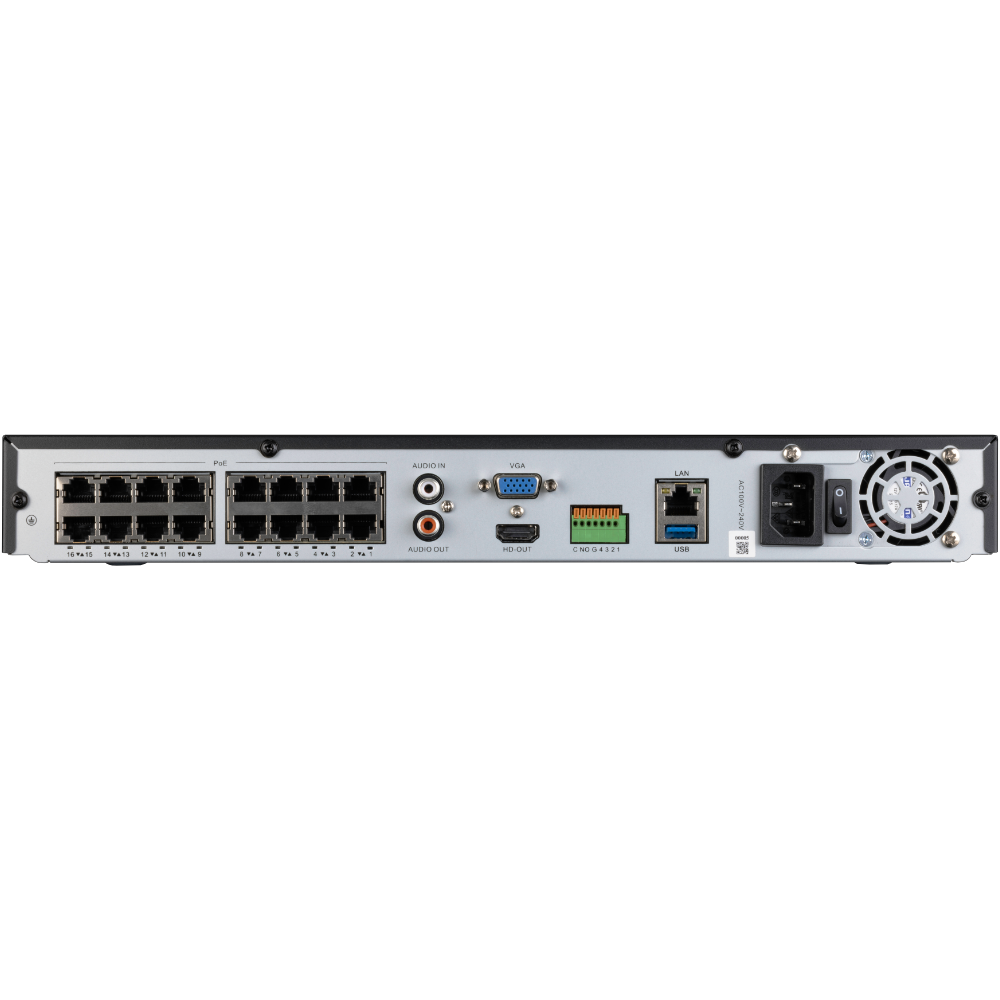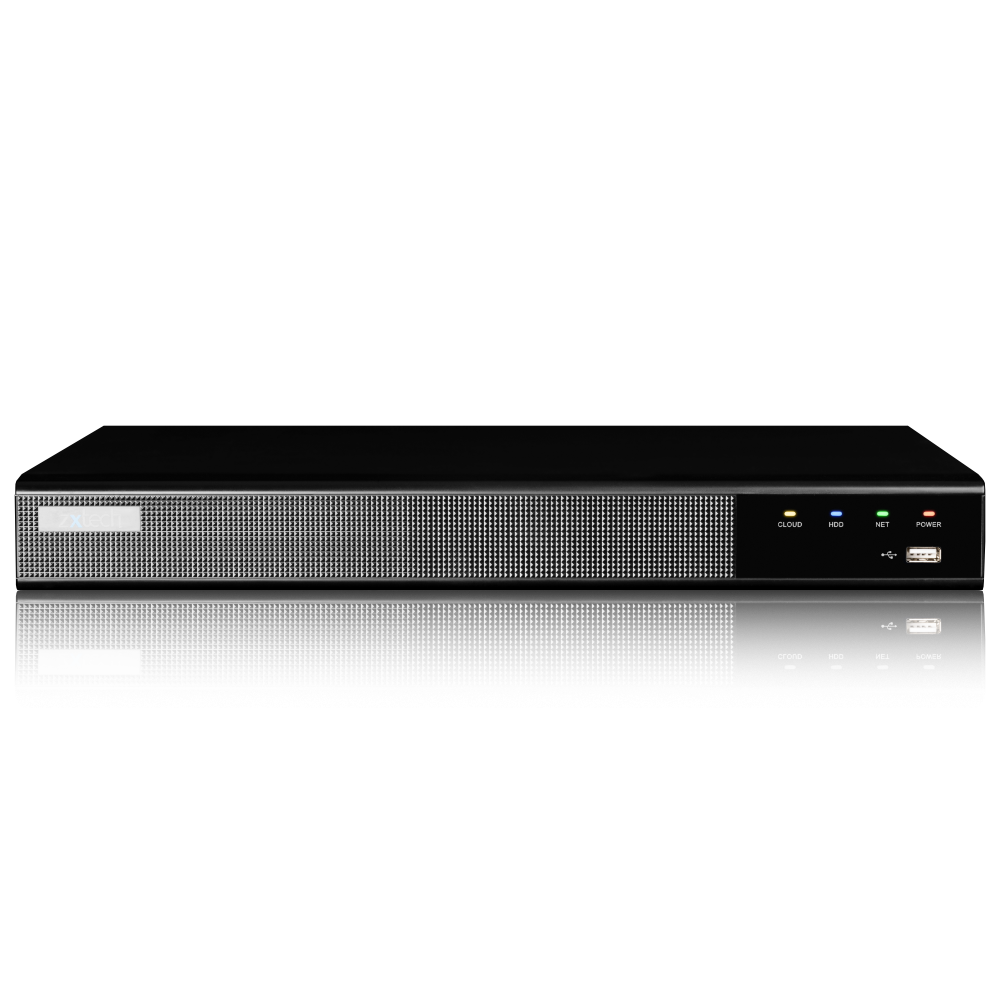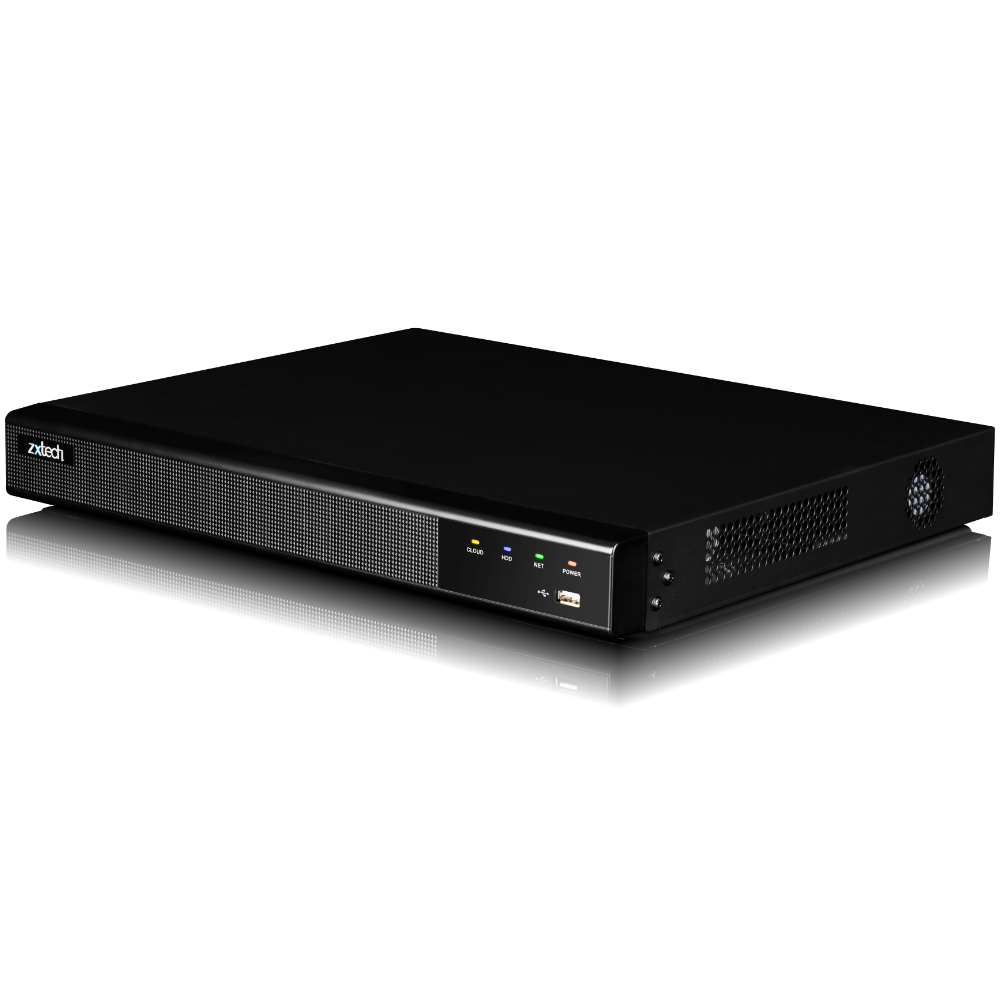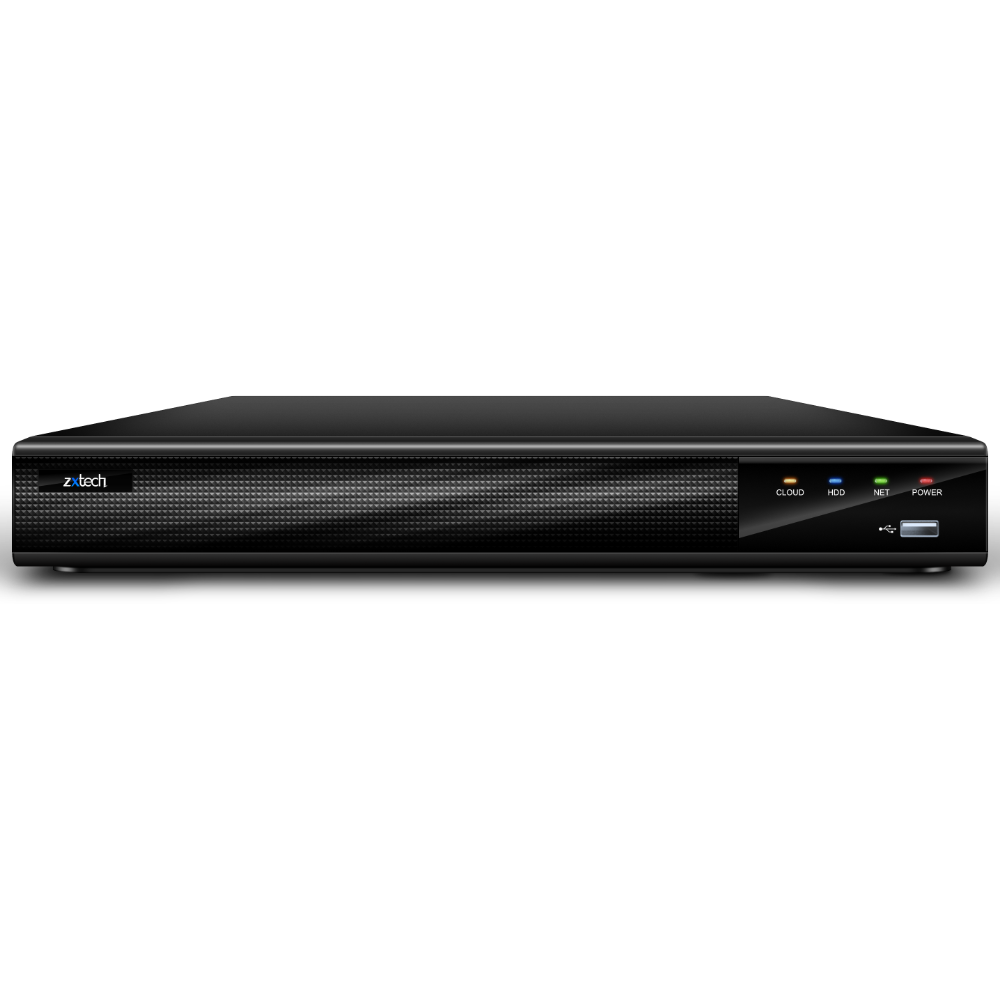 Zxtech Onyx 32 Channel 16-PoE Ports 12MP 4K CCTV High Definition Network Recorder
SKU: MN6P3C2H
---
UK next business day delivery
UK VAT invoices included
30 days hassle free returns
12 month warranty
In stock, ready to ship
Elevate your security setup with Zxtech's 32-channel CCTV NVR, expertly crafted for unmatched surveillance. This powerhouse supports 16 PoE IP Cameras using the built-in switch and can accommodate up to 32 IP Cameras with an external switch. Revel in the clarity of 4K or 12MP resolution for 32 cameras. Benefit from humanoid detection technology, ensuring precise alerts by identifying human shapes. Advanced motion detection capabilities, such as regional and line-crossing configurations, guarantee the most accurate notifications. Watch the footage in vivid detail with 4K playback for 4 channels or 1080p for 16 channels. Stay connected anytime, anywhere, with seamless remote access on your smartphone. Rely on Zxtech's NVR for stellar performance, superior detection, and unparalleled ease of use.
Key Features:
Channels: 32 total, 16 built-in PoE ports.
Recording: 32 Channel Recording 5MP, 8MP 4K, 12MP, all real-time 25fps.
Compression: H.265+/H.265/H.264+/H.264 methods for efficient storage.
Playback: Stunning 4K for 4 channels or 1080p for 16 channels.
Connectivity: Cloud access on various devices and browsers.
Storage: Space for two hard drives, 10TB, with a combined HDD of 20TB.
Configurations: Flexible scheduling, masking, and USB backup options.
Event Triggers: Recording, email, FTP, Snapshot, buzzer and more.
Ports: Audio out, USB, and network ports.
Compatibility: Supports Onvif 2.4 standards.
Warranty: 1-year peace of mind guarantee.
What's in the Box
Zxtech Onyx 32CH (16-PoE) CCTV NVR
Quick Start Guide
USB Mouse
Power Adaptor
Compare
Onyx Range NVR Range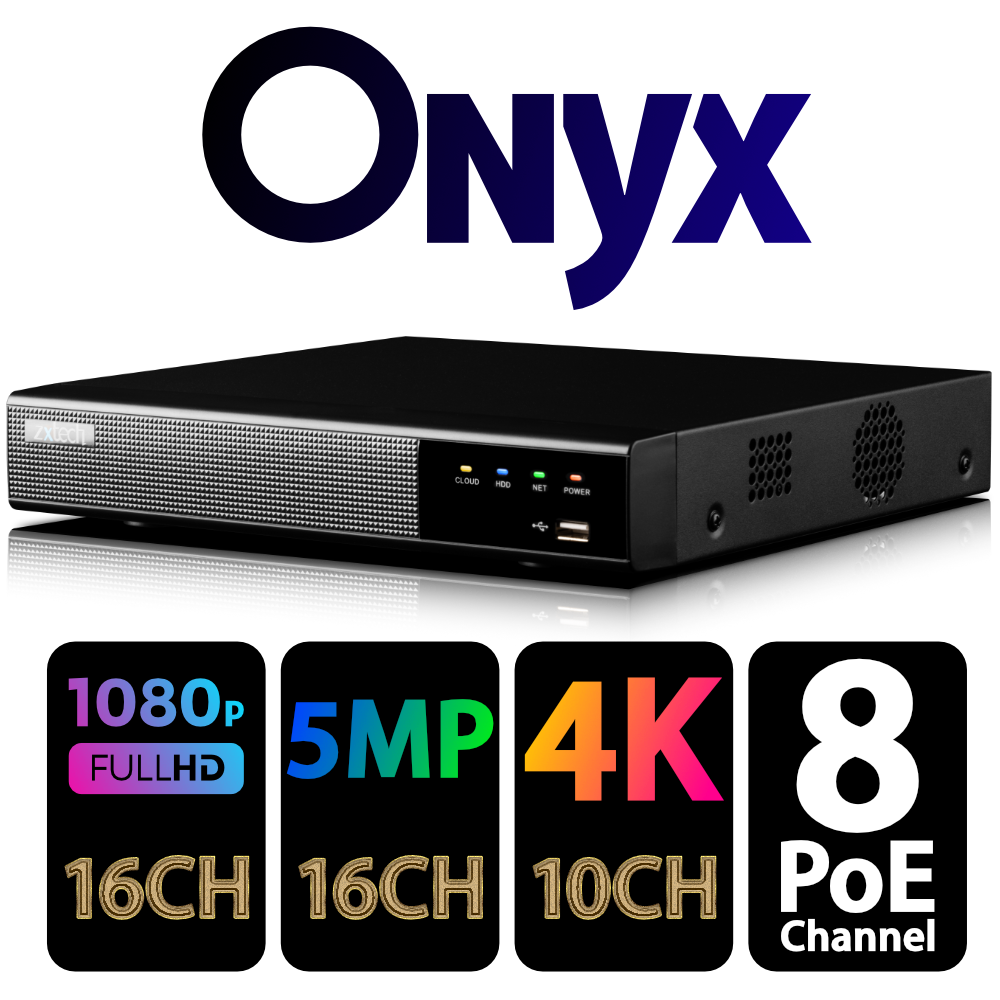 Max Capacity
8 x 4K Cameras
9 x 5MP Cameras
10 x 4K Cameras
16 x 5MP Cameras
16 x 4K or 12MP Cameras
32 x 5MP Cameras
Enhanced by High End CPU
4K PoE NVR Features
Buy NVR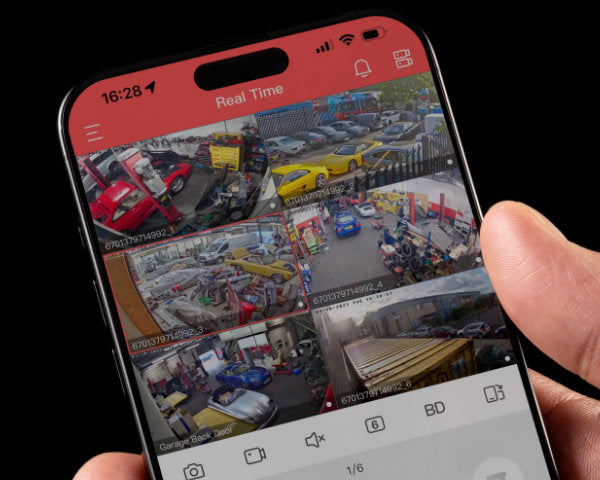 Free App
Stream Live, Receive Real-time Alerts, Snap & Share, and Playback Anytime, Any Where, and Control Zoom
Using the free app, stream live in 4K, receive real-time alerts, snap, share, and playback from anywhere. Select channels and times for instant playback, and view multiple cameras simultaneously. For the best view, simply rotate your phone to widescreen. You can also zoom in and zoom out using the app if connected with PTZ cameras.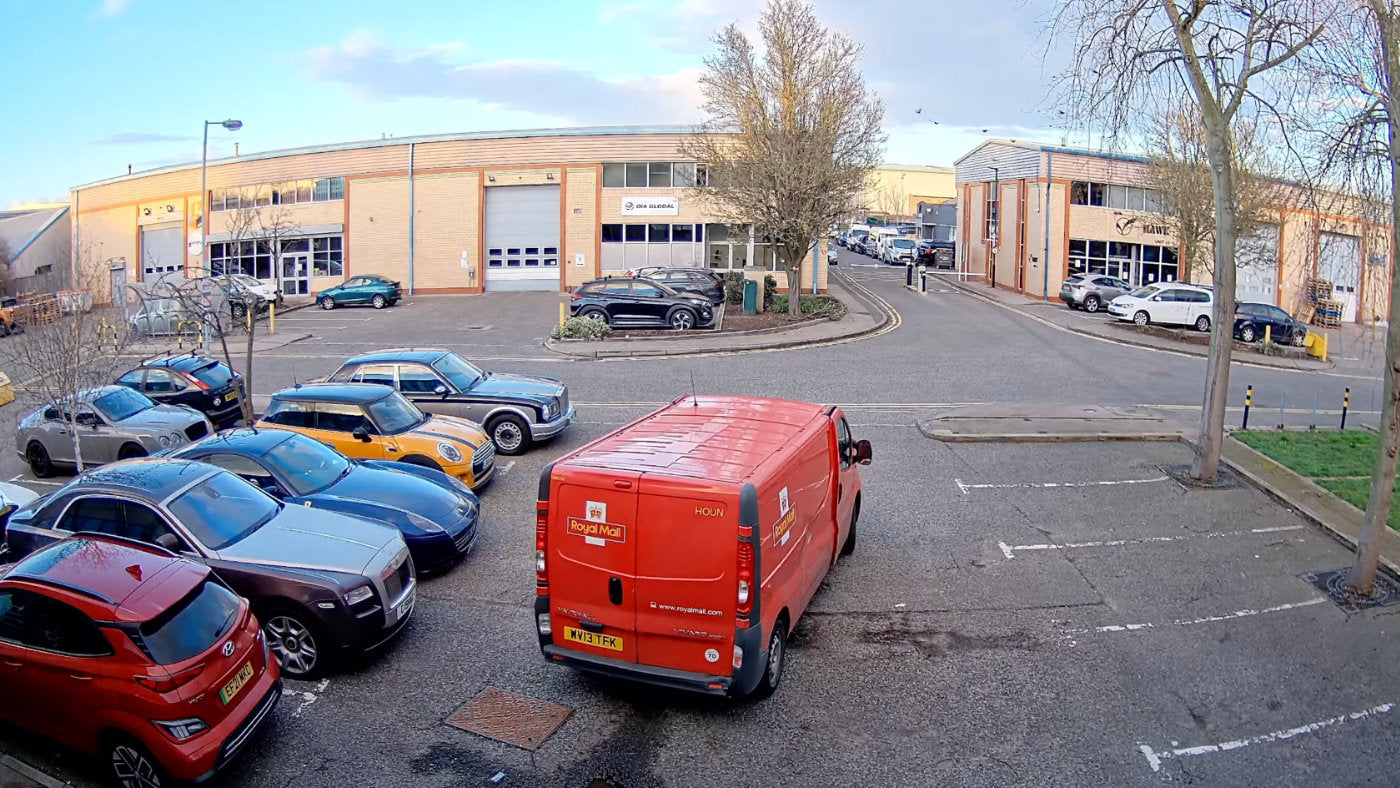 Watch Live Stream
From Zxtech 4K CCTV Camera
Ensure your internet speed is optimal and wait a bit longer for the 4K high-quality stream to fully load on your device. YouTube takes a while to buffer the highest quality image.
8MP
Shaper than 1080p
4K Recording
Redefining Clarity
2MP v.s. 5MP & 4K
Transition from the standard 2MP 1080p HD to the finer details of 5MP Super HD or 8MP Ultra HD when connected to 5MP or 8MP IP Cameras. For those seeking the pinnacle of clarity, our 4K NVR is the ultimate choice for your Zxtech cameras.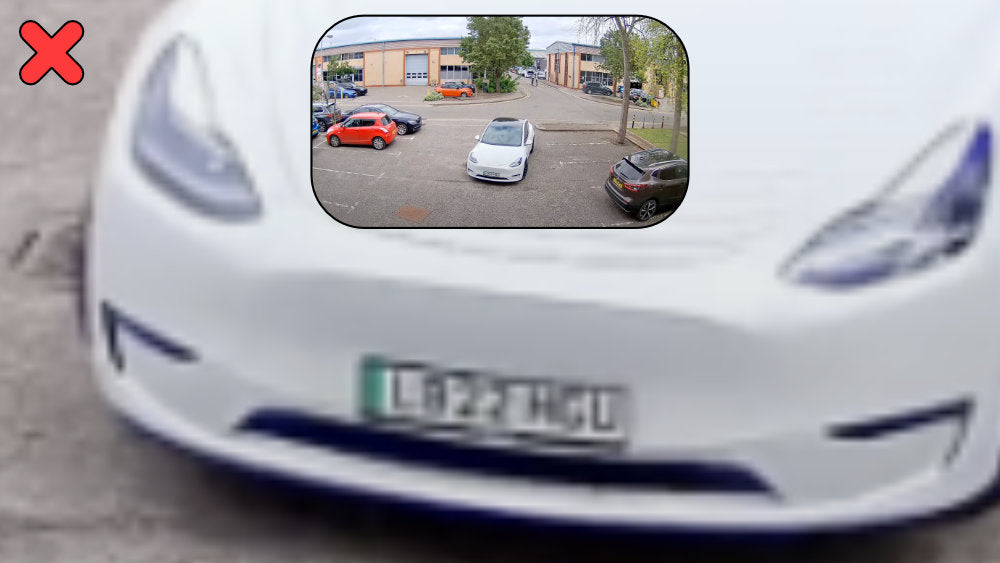 2 Megapixel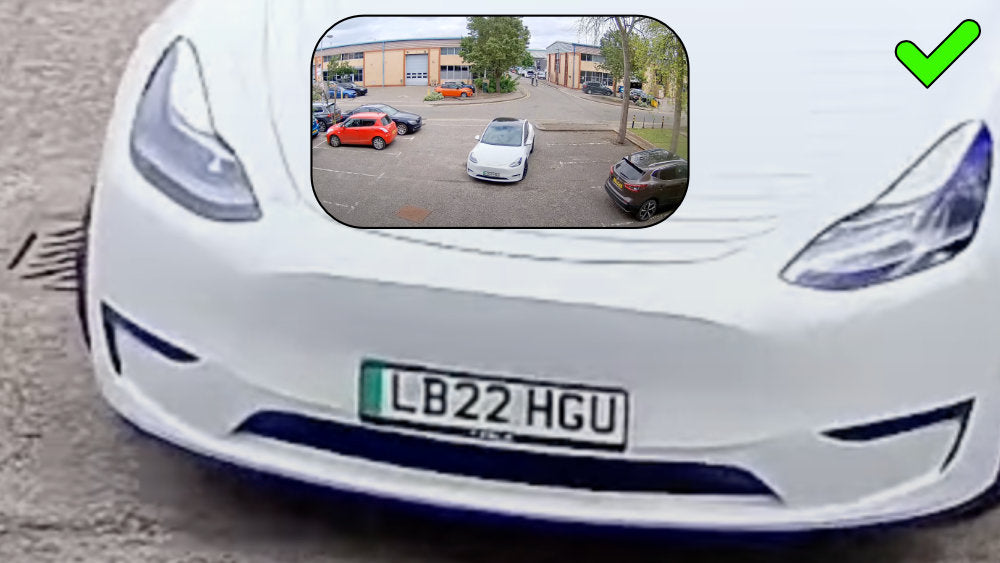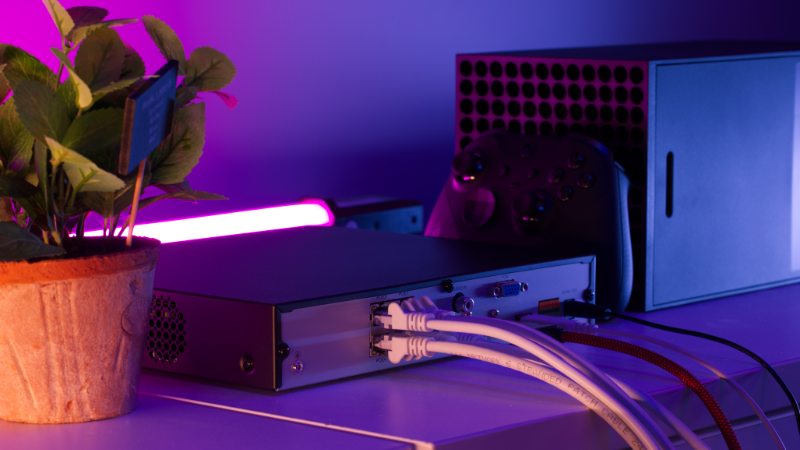 Install Your Camera with Just One Cable
Built-in PoE
Come with the choice of 4, 8 and 16 PoE Port NVR. If you already have Zxtech PoE Cameras or plan to purchase them to use with this NVR, you can bid farewell to messy cables and complex installations. Our Power over Ethernet system lets you transmit both video and power using a single network cable. By eliminating the need for separate power adapters and splitters, you benefit from a streamlined installation process that is both time-saving and cost-effective.
Enhanced by AI Technology
4K NVR Recorder Motion Features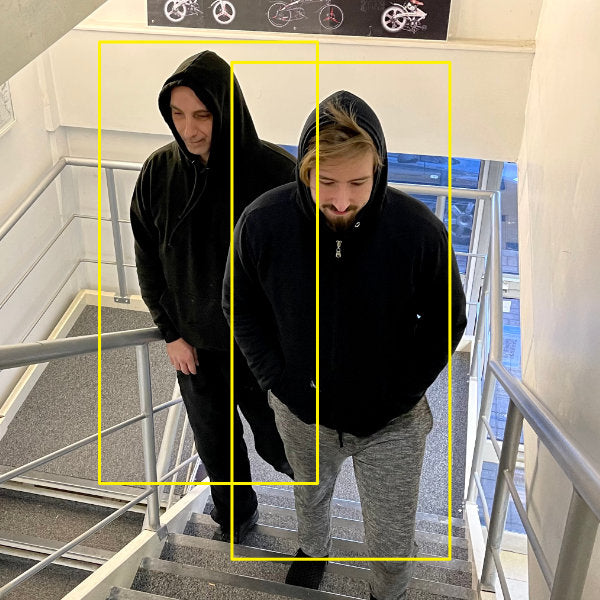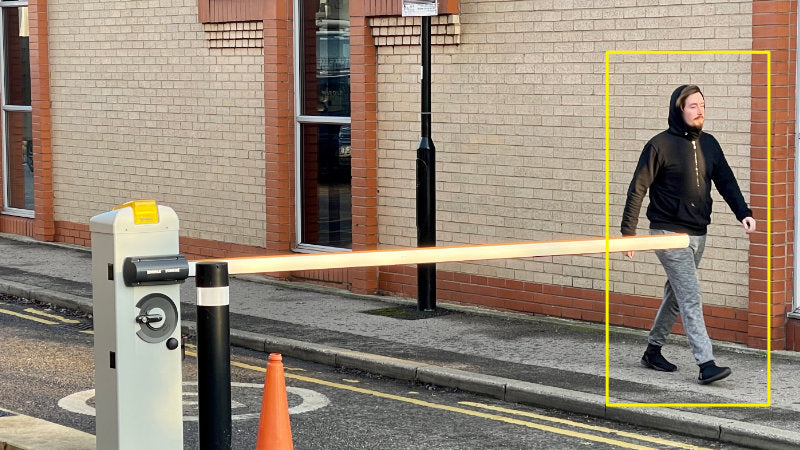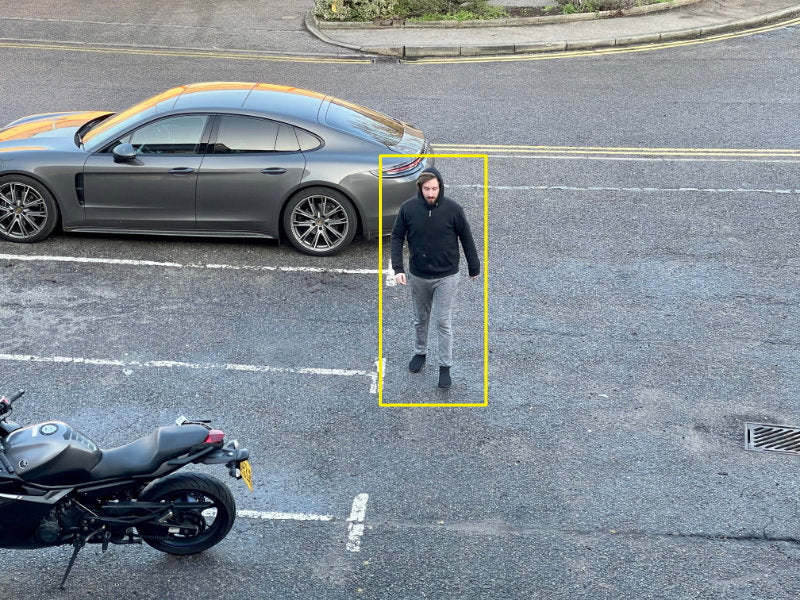 Must be used with Zxtech Cameras
Smart Humanoid Detection.
Introducing Zxtech's advanced PoE NVR, equipped with cutting-edge AI face detection capabilities. Beyond the standard features like Motion Detection, Mobile Alerts, Masking, and Scheduling, Ensure unparalleled safety by receiving alerts or activating recordings when someone enters or crosses a predefined zone. With Zxtech, experience next-generation CCTV that proactively aids in crime prevention. Elevate your security with the future of surveillance technology. Features only available when connected to Zxtech cameras.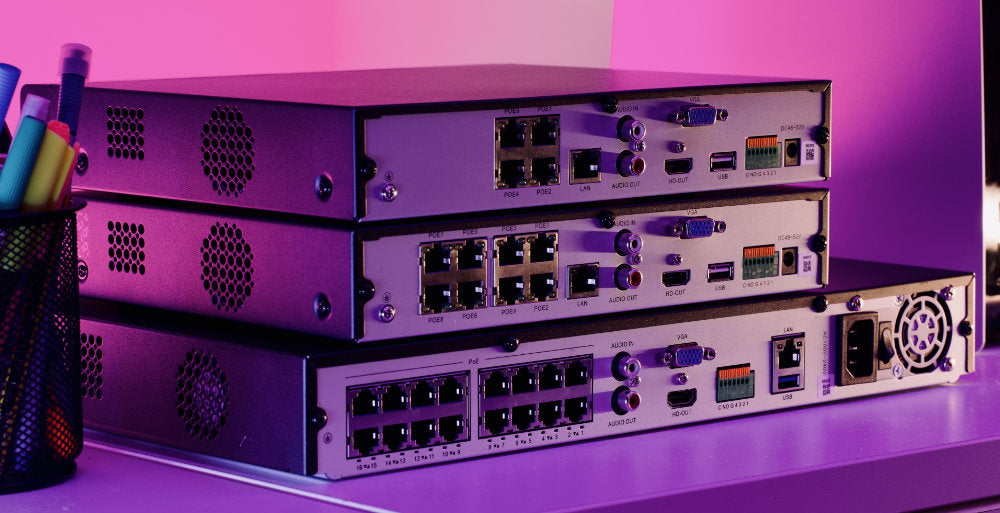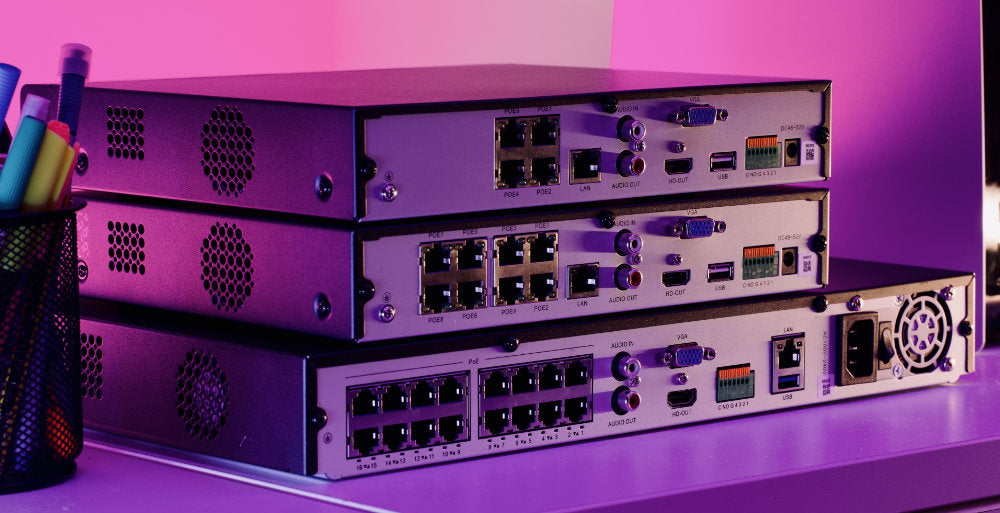 Network Connection
Connect your home router or switch to get online. If you want to connect external cameras, you will need to connect this port to a external switch or router.
4-Port PoE NVR can connect 9 cameras in total.
8-Port PoE NVR can connect 16 cameras in total.
16-Port PoE NVR can connect 32 cameras in total.
HDMI + VGA
You can connect up to 2 displays or monitors at the same time.
2x USB
The NVR has a USB port on the front and another on the back, allowing for easy connection of a mouse or memory stick to seamless extract CCTV footage from the hard drive.
Audio Out & Audio In
Connect external speakers to playback sound if the camera supports audio recording. Also you can connect external microphone to the recorder.
PoE Ports
Kits with 4 or less cameras comes with 4 PoE Ports NVR.
Kits with 8 or less cameras comes with 8 PoE Ports NVR.
Kits with more than 9 cameras comes with 16 PoE Ports NVR.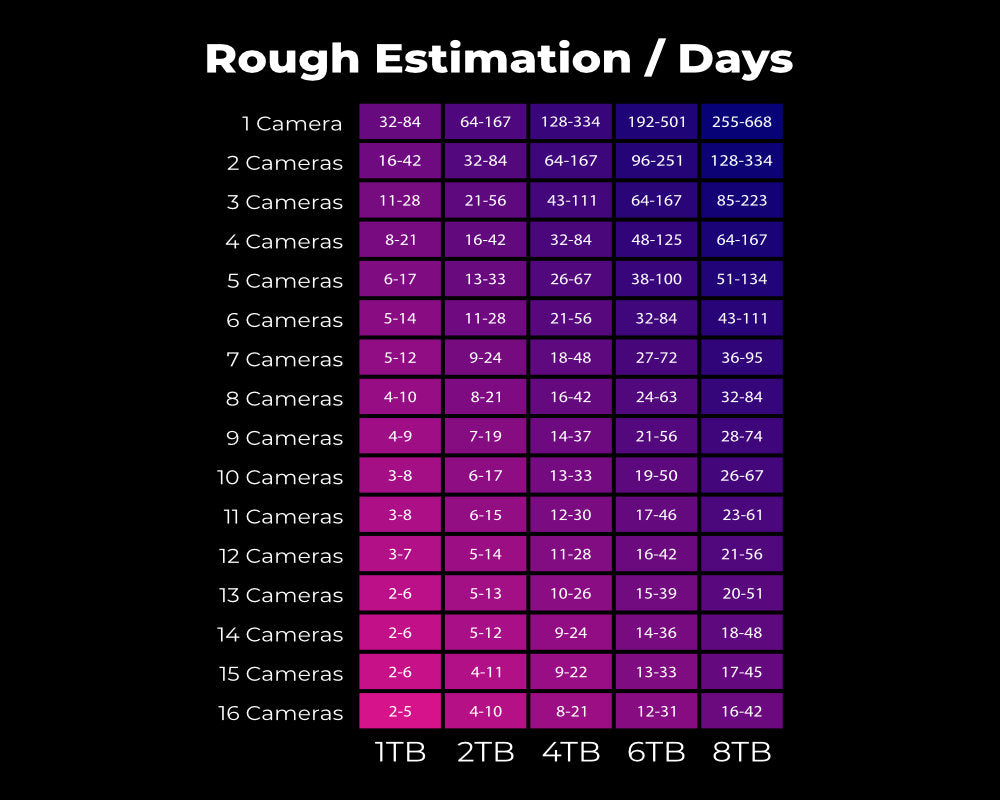 With Loop Recording
Maximized HDD for "Marathon" Recording.
The advanced PoE CCTV NVR provides an impressive storage capacity: up to 8TB in the 4/8 Port PoE NVR and 20TB in the 16 Port PoE NVR. Combined with H265+ compression technology, your recordings will use far less storage space, allowing the hard drive to accommodate up to 4 times more footage compared to the older H264 format. Additionally, the automatic loop recording ensures the oldest clips are overwritten, so you always retain the most critical evidence.
Explore HDD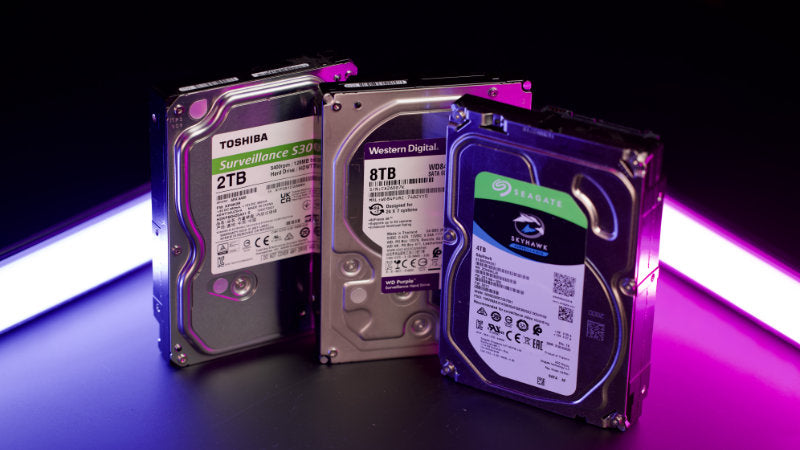 Boosted Efficiency, Reduced Bandwidth
Embrace the Future with H.265+
Meet H.265+, the advanced successor to H.264. This High-Efficiency Video Coding (HEVC) standard offers a significant upgrade in video quality while simultaneously slashing required bandwidth and storage needs by as much as 50%. Whether you're a homeowner or a business, this means impressive cost reductions. With the same storage capacity, H.265+ allows you to house up to 4 times the footage you'd get with H.264. Opt for H.265+ and experience the next generation of video compression, marrying cost-efficiency with impeccable clarity.
PoE NVR Enhanced by the Latest Technology
4K NVR System Features
Zxtech introduces its state-of-the-art firmware for 4K NVR CCTV. When connected to Zxtech cameras, it boasts a user-friendly interface enriched with advanced features such as Face Recognition and Intrusion Detection. This next-gen firmware ensures a superior user experience. With its smart AI system and real-time HDD monitoring, it offers both safety and reliability. Dive into a seamless experience with Zxtech's latest 4K NVR software recorders.
Mac, PC, Smart Phone, TV
Access on Any Device, Any Time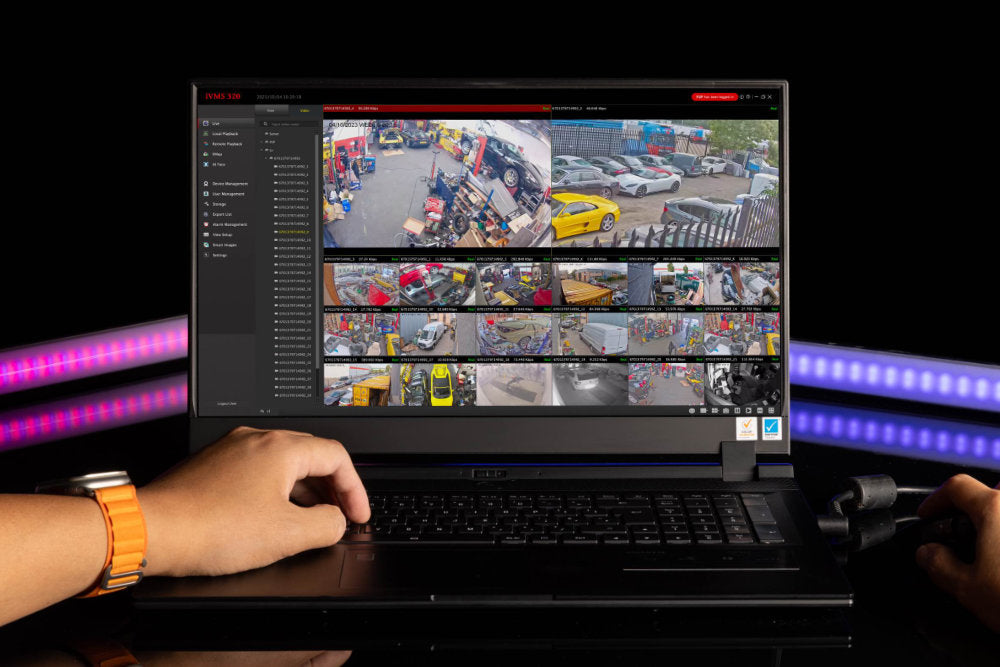 PC, Mac
Download the latest version of the iVMS software for your PC or Mac. This allows you to remotely monitor and review footage from your CCTV system, ensuring you stay connected wherever you are, anytime you need.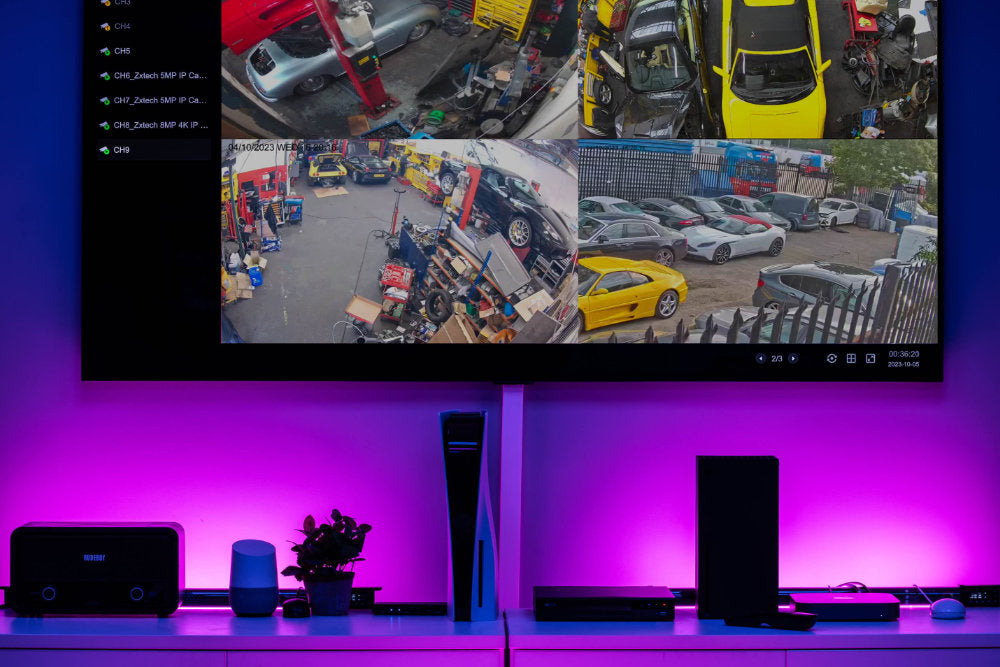 2 Screen TV Setup
The NVR included with the system boasts both HDMI and VGA ports on the back, enabling simultaneous connection to two external monitors or TVs. For instance, with a sufficiently long cable, you can have one display in the kitchen and another in the living room.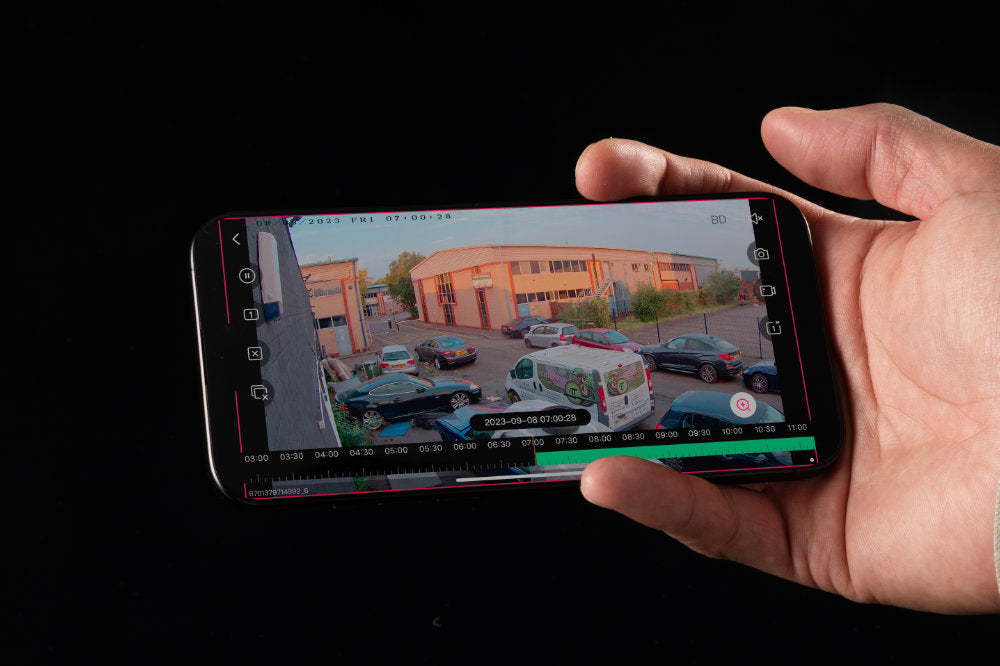 Smart Phone
In today's world, smartphones are indispensable, and so should your CCTV system be. Download the latest BitVision app to monitor, view, playback, and share your CCTV footage anytime, anywhere.
Model
MN403PN
System
 
Main Processor 
ARM Cortex A7 Processor
Operating System
Embedded LINUX
Video
 
Input
9CH(3840*2160,2592x1944, 2048x1536, 1920×1080, 1280×960, 1280×720, etc)
Output  
1 VGA, 1 HD
Audio
 
Input
1 Port RCA, support 9CH IPC audio input
Output
1 Port RCA(Linear, 1kΩ), HD output
Audio Bit Rate
64kbps
Audio Compression standard
G711u, G711a, ADPCM_DVI4 
Intercom
support (two-way)
Alarm
 
Sensor Input 
4CH
Output  
1CH
Motion Detection  
9 Channel, MD Zones: 396 (22 × 18)
Trigger Events 
Recording, Email, FTP, Snapshot, Buzzer and Screen Tips, alarm output
Display
 
HD Output1
4K(3840*2160)/2K(2560*1440)/1920*1080/1280*1024/1280*720/1024*768
HD Output2
N/A
VGA     
Resolution:1920 × 1080/60Hz, 1280 × 1024/60Hz, 1280 × 720/60Hz, 1024 × 768/60Hz
Display Split 
9CH/8CH/6CH/4CH/1CH
Digital Zoom  
YES
OSD
Camera Title, Time, Recording, Motion Detection, Event Alarm
Recording
 
Video Compression  
H265/H264/H265+/H264+
Resolution  
4k(3840×2160),5MP(2592×1944),4MP(2688×1520/2560×1440),3MP(2048×1536),1080P(1920×1080),960P(1280x960),720P(1280×720),D1 (720×576/720×480)
Record Rate  
PAL :4K@8CHx25fps,5MP@9CH×25fp,4MP@9CHx25fp,3MP@9CH×25fp,1080P@9CH×25fp, 960P@9CH×25fp,720P@9CH×25fp, D1@9CH×25fp
 NTSC: 4K@8CHx30fps,5MP@9CH×30fp,4MP@9CH×30fp,3MP@9CH×30fp,1080P@9CH×30fp, 960P@9CH×30fp, 720P@9CH×30fp, D1@9CH×30fp
Record Mode 
Manual\Timer\Motion Detection\ Alarm\Smart Event
Playback & Backup
 
Local Sync Playback 
1CH 4K@30fps, 1CH 5MP@30fps,2CH 4MP@30fps, 2CH 3M@30fps, 4CH 1080P@30fps,6CH 960P@30fps, 8CH 720P@30fps,9CH D1@30fps
Decode Capability 
4CH 1080P(1920x1080)@30fps
Remote Sync Playback 
YES
Search Mode 
ALL, Timing Video, Motion Detection, Alarm,Tag  search,Smart Event,Pictrue,Log
Playback Functions
Play, pause, fast forward, rewind, previous frame, next frame, electronic zoom, clip, audio
Backup Mode
USB Device/Network
Network
 
Interface 
1xRJ45 10M/100MAdaptive Ethernet Interface
Incoming Bandwidth 
80Mbps
Outgoing Bandwidth
80Mbps
Network Functions  
IPv6/TCP/IP, HTTP,HTTPS, UPnP, DNS, NTP, SMTP, DHCP, FTP, DDNS, RTSP, RTCP, p2p,PPPOE
Onvif 
Profile S, Profile G, Profile T
Web Browser
Edge,IE8-11, Google Chrome , Firefox ,Safari
CMS Software
Support  Windows 7/ Windows 8/Windows 10/Windows 11/MAC OS
Cloud Support
Yes
Smart Phone
iPhone, iPad, Android, Android Pad
POE  
4 x Independent 100Mbps POE Network Interfaces(Output power AF mode 15W per port), 45/78 line order, Total Power Output≤ 50W,  Support Plug and Play, Support network cable extended mode Max. 200M
WIFI  
N/A
Storage
 
Interface Type  
1 SATA Hard Disk Interface (3.5" SATA)
Capacity 
Up to 8TB capacity
eSATA
N/A
General
 
Language  UI
Simplified Chinese, Traditional Chinese,English,  Russian,
Deutsch, French, Portuguese,  Spanish, Italian,  Korean,   Janpanese,Ukrainian, Polski,Dutch, Greek, Czech, Arabic
USB Interface 
2 USB 2.0 Interfaces
RS485 
N/A
Power consumption
DC48V∕1360mA  ≤10W (Without Hard Disk and POE)
Working Environment
-10℃~50℃, 10%~90%(humidity)
Dimension(W×D×H)
 260*230*43(mm) 
Weight
2kg(without HDD)
Model
MN903PN 
System
 
Main Processor 
ARM Cortex A7 Processor
Operating System
Embedded LINUX
Video
 
Input
16CH(3840

×

 2160, 2592

×

 1944, 2048

×

 1536, 1920 × 1080, 1280

× 

960, 1280 × 720, etc)
Output  
1 VGA, 1 HD
Audio
 
Input
1 Port RCA, support 16CH IPC audio input
Output
1 Port RCA (Linear, 1kΩ), HD output
Audio Bit Rate
64kbps
Audio Compression standard
G711u, G711a, ADPCM_DVI4 
Intercom
support (two-way)
Alarm
 
Sensor Input 
4CH
Output  
1CH
Motion Detection  
16Channel, MD Zones: 396 (22 × 18)
Trigger Events 
Recording, Email, FTP, Snapshot, Buzzer and Screen Tips, alarm output
Display
 
HD Output1
4K(3840

× 

2160), 2K(2560

× 

1440), 1920

× 

1080, 1280

× 

1024, 1280

× 

720, 1024

× 

768
HD Output2
N/A
VGA     
Resolution:1920 × 1080/60Hz, 1280 × 1024/60Hz, 1280 × 720/60Hz, 1024 × 768/60Hz
Display Split 
16CH, 13CH, 10CH, 9CH, 8CH, 6CH, 4CH, 1CH
Digital Zoom  
YES
OSD
Camera Title, Time, Recording, Motion Detection, Event Alarm
Recording
 
Video Compression  
H265/H264/H265+/H264+
Resolution  
4K(3840

× 

2160), 5MP(2592

× 

1944), 4MP(2688

× 

1520 / 2560

× 

1440),3MP(2048

× 

1536),1080P(1920

× 

1080),960P(1280

× 

960),720P(1280

× 

720), D1 (720

× 

576/720

× 

480)
Record Rate  
PAL: 4K@10CH

× 

25fps,5MP@16CH

× 

25fp, 4MP@16CH

× 

25fp, 3MP@16CH

× 

25fp, 1080P@16CH

× 

25fp, 960P@16CH

× 

25fp, 720P@16CH

× 

25fp, D1@16CH

× 

25fp
NTSC: 4K@10CH

× 

30fps, 5MP@16CH

× 

30fp, 4MP@16CH

× 

30fp,3MP@16CH

× 

30fp, 1080P@16CH

× 

30fp, 960P@16CH

× 

30fp, 720P@16CH

× 

30fp,  D1@16CH

× 

30fp
Record Mode 
Manual, Timer, Motion Detection,  Alarm, Smart Event
Playback & Backup
 
Local Sync Playback 
1CH 4K@30fps, 1CH 5MP@30fps, 2CH 4MP@30fps, 2CH 3M@30fps, 4CH 1080P@30fps, 4CH 960P@30fps, 4CH 720P@30fps,16CH D1@30fps
Decode Capability 
4CH 1080P(1920

× 

1080)@30fps
Remote Sync Playback 
YES
Search Mode 
ALL, Timing Video, Motion Detection, Alarm,Tag search, Smart Event, Pictrue, Log
Playback Functions
Play, pause, fast forward, rewind, previous frame, next frame, electronic zoom, clip, audio
Backup Mode
USB Device, Network
Network
 
Interface 
1xRJ45 10M/100/1000M Adaptive Ethernet Interface
Incoming Bandwidth 
120Mbps
Outgoing Bandwidth
120Mbps
Network Functions  
IPv6,TCP/IP, HTTP,HTTPS, UPnP, DNS, NTP, SMTP, DHCP, FTP, DDNS, RTSP, RTCP, P2P, PPPOE
Onvif 
Profile S, Profile G, Profile T
Web Browser
Edge,IE8-11, Google Chrome, Firefox, Safari
CMS Software
Support  Windows 7, Windows 8, Windows 10, Windows 11, MAC OS
Cloud Support
Yes
Smart Phone
iPhone, iPad, Android, Android Pad
POE  
8 x Independent 100Mbps POE Network Interfaces(Output power AF mode 15W per port), 45/78 line order, Total Power Output≤ 96W,  Support Plug and Play, Support network cable extended mode Max. 200M
WIFI  
N/A
Storage
 
Interface Type  
1 SATA Hard Disk Interface (3.5" SATA)
Capacity 
Up to 8TB capacity
eSATA
N/A
General
 
Language  UI
Simplified Chinese, Traditional Chinese,English,  Russian,
Deutsch, French, Portuguese, Spanish, Italian, Korean, Japanese, Ukrainian, Polski, Dutch, Greek, Czech, Arabic
USB Interface 
2 USB 2.0 Interfaces
RS485 
N/A
Power consumption
DC48V∕2500mA ≤ 10W(Without Hard Disk and POE)
Working Environment
-10℃~50℃, 10%~90%(humidity)
Dimension(W×D×H)
 260

× 

230

× 

43(mm) 
Weight
2kg(without HDD)
Model
MN6P3C2H
System
 
Main Processor 
Quad Cortex A53
Operating System
Embedded LINUX
Video
 
Input

32CH(4000*3000, 3840*2160, 2592x1944, 2048x1536, 1920×1080, 1280×960, 1280×720, etc)

Output  
1*HD,1*VGA
Audio
 
Input
1 Port RCA, support 32CH IPC audio input
Output
1 Port RCA(Linear, 1kΩ), HD output
Audio Bit Rate
64kbps
Audio Compression standard
G711U, G711A, AAC
Intercom
support (two-way)
Alarm
 
Sensor Input 
4CH
Output  
1CH
Motion Detection  
32Channel, MD Zones: 396 (22 × 18)
Trigger Events 
Recording, Email, FTP, Snapshot, Buzzer and Screen Tips, alarm output
Display
 
HD Output1
4K(3840*2160), 2K(2560*1440), 1920*1080, 1280*1024, 1280*720, 1024*768
HD Output2
N/A
VGA     
Resolution:1920 × 1080/60Hz, 1280 × 1024/60Hz, 1280 × 720/60Hz, 1024 × 768/60Hz
Display Split 
36CH, 25CH, 17CH, 16CH, 13CH, 10CH, 9CH ,8CH, 6CH, 4CH, 1CH
Digital Zoom  
YES
OSD
Camera Title, Time, Recording, Motion Detection, Event Alarm
Recording
 
Video Compression  
H265/H264/H265+/H264+
Resolution  
12MP(4000*3000), 8MP(3840×2160), 5MP(2592×1944), 4MP(2688×1520/2560×1440), 3MP(2048×1536), 1080P(1920×1080), 960P(1280x960), 720P(1280×720), D1 (720×576/720×480)
Record Rate  
PAL: 12MP@32CHx25fps, 8MP@32CHx25fps, 5MP@32CH×25fp, 4MP@32CHx25fp, 3MP@32CH×25fp,1080P@32CH×25fp, 960P@32CH×25fp, 720P@32CH×25fp, D1@32CH×25fp
NTSC: 12MP@32CHx30fps, 8MP@32CHx30fps, 5MP@32×30fp, 4MP@32CH×30fp, 3MP@32CH×30fp, 1080P@32CH×30fp, 960P@32CH×30fp,  720P@32CH×30fp, D1@32CH×30fp
Record Mode 
Manual, Timer, Motion Detection, Alarm, Smart Event
Playback & Backup
 
Local Sync Playback 
3CH 12MP@30fps, 4CH 8MP@30fps, 6CH 5MP@30fps, 8CH 4MP@30fps, 16CH 1080P@30fps, 16CH 960P@30fps, 16CH 720P@30fps, 16CH D1@30fps
Decode Capability 
 1080P(1920x1080)@480fps
Remote Sync Playback 
YES
Search Mode 
ALL, Timing Video, Motion Detection, Alarm, Tag search, Smart Event, Pictrue, Log
Playback Functions
Play, pause, fast forward, rewind, previous frame, next frame, electronic zoom, clip, audio
Backup Mode
USB Device/Network
Network
 
Interface 
1xRJ45 10M/100/1000M Adaptive Ethernet Interface
Incoming Bandwidth 
320Mbps
Outgoing Bandwidth
256Mbps
Network Functions  
IPv6, TCP/IP, HTTP, HTTPS, UPnP, DNS, NTP, SMTP, DHCP, FTP, DDNS, RTSP, RTCP, p2p, PPPOE
Onvif 
Profile S, Profile G, Profile T
Web Browser
Edge, IE8-11, Google Chrome, Firefox, Safari
CMS Software
Support  Windows 7, Windows 8, Windows 10, Windows 11, MAC OS
Cloud Support
Yes
Smart Phone
iPhone, iPad, Android, Android Pad
POE  
16 x Independent 100Mbps POE Network Interfaces (Output power AF mode 15W per port), 45/78 line order, Total Power Output≤ 200W, Support Plug and Play, Support network cable extended mode Max. 200M
WIFI  
N/A
Storage
 
Interface Type  
2 SATA Hard Disk Interface (3.5" SATA)
Capacity 
Up to 10 TB capacity for each HDD
eSATA
N/A
General
 
Language  UI
Simplified Chinese, Traditional Chinese,English, Russian,
Deutsch, French, Portuguese, Spanish, Italian, Korean, Janpanese, Ukrainian, Polski, Dutch, Greek, Czech, Arabic
USB Interface 

Front panel: 1 × USB 2.0; Rear panel: 1 × USB 3.0

RS485 
N/A
Power consumption
100-240VAC, 50/60Hz ≤15W (Without Hard Disk and POE)
Working Environment
-10℃~50℃, 10%~90% (humidity)
Dimension(W×D×H)
380 x 316 x 51mm
Weight
3.48≤ kg (without HDD)
Model
MN403PN
System
 
Main Processor 
ARM Cortex A7 Processor
Operating System
Embedded LINUX
Video
 
Input
9CH(3840*2160,2592x1944, 2048x1536, 1920×1080, 1280×960, 1280×720, etc)
Output  
1 VGA, 1 HD
Audio
 
Input
1 Port RCA, support 9CH IPC audio input
Output
1 Port RCA(Linear, 1kΩ), HD output
Audio Bit Rate
64kbps
Audio Compression standard
G711u, G711a, ADPCM_DVI4 
Intercom
support (two-way)
Alarm
 
Sensor Input 
4CH
Output  
1CH
Motion Detection  
9 Channel, MD Zones: 396 (22 × 18)
Trigger Events 
Recording, Email, FTP, Snapshot, Buzzer and Screen Tips, alarm output
Display
 
HD Output1
4K(3840*2160)/2K(2560*1440)/1920*1080/1280*1024/1280*720/1024*768
HD Output2
N/A
VGA     
Resolution:1920 × 1080/60Hz, 1280 × 1024/60Hz, 1280 × 720/60Hz, 1024 × 768/60Hz
Display Split 
9CH/8CH/6CH/4CH/1CH
Digital Zoom  
YES
OSD
Camera Title, Time, Recording, Motion Detection, Event Alarm
Recording
 
Video Compression  
H265/H264/H265+/H264+
Resolution  
4k(3840×2160),5MP(2592×1944),4MP(2688×1520/2560×1440),3MP(2048×1536),1080P(1920×1080),960P(1280x960),720P(1280×720),D1 (720×576/720×480)
Record Rate  
PAL :4K@8CHx25fps,5MP@9CH×25fp,4MP@9CHx25fp,3MP@9CH×25fp,1080P@9CH×25fp, 960P@9CH×25fp,720P@9CH×25fp, D1@9CH×25fp
 NTSC: 4K@8CHx30fps,5MP@9CH×30fp,4MP@9CH×30fp,3MP@9CH×30fp,1080P@9CH×30fp, 960P@9CH×30fp, 720P@9CH×30fp, D1@9CH×30fp
Record Mode 
Manual\Timer\Motion Detection\ Alarm\Smart Event
Playback & Backup
 
Local Sync Playback 
1CH 4K@30fps, 1CH 5MP@30fps,2CH 4MP@30fps, 2CH 3M@30fps, 4CH 1080P@30fps,6CH 960P@30fps, 8CH 720P@30fps,9CH D1@30fps
Decode Capability 
4CH 1080P(1920x1080)@30fps
Remote Sync Playback 
YES
Search Mode 
ALL, Timing Video, Motion Detection, Alarm,Tag  search,Smart Event,Pictrue,Log
Playback Functions
Play, pause, fast forward, rewind, previous frame, next frame, electronic zoom, clip, audio
Backup Mode
USB Device/Network
Network
 
Interface 
1xRJ45 10M/100MAdaptive Ethernet Interface
Incoming Bandwidth 
80Mbps
Outgoing Bandwidth
80Mbps
Network Functions  
IPv6/TCP/IP, HTTP,HTTPS, UPnP, DNS, NTP, SMTP, DHCP, FTP, DDNS, RTSP, RTCP, p2p,PPPOE
Onvif 
Profile S, Profile G, Profile T
Web Browser
Edge,IE8-11, Google Chrome , Firefox ,Safari
CMS Software
Support  Windows 7/ Windows 8/Windows 10/Windows 11/MAC OS
Cloud Support
Yes
Smart Phone
iPhone, iPad, Android, Android Pad
POE  
4 x Independent 100Mbps POE Network Interfaces(Output power AF mode 15W per port), 45/78 line order, Total Power Output≤ 50W,  Support Plug and Play, Support network cable extended mode Max. 200M
WIFI  
N/A
Storage
 
Interface Type  
1 SATA Hard Disk Interface (3.5" SATA)
Capacity 
Up to 8TB capacity
eSATA
N/A
General
 
Language  UI
Simplified Chinese, Traditional Chinese,English,  Russian,
Deutsch, French, Portuguese,  Spanish, Italian,  Korean,   Janpanese,Ukrainian, Polski,Dutch, Greek, Czech, Arabic
USB Interface 
2 USB 2.0 Interfaces
RS485 
N/A
Power consumption
DC48V∕1360mA  ≤10W (Without Hard Disk and POE)
Working Environment
-10℃~50℃, 10%~90%(humidity)
Dimension(W×D×H)
 260*230*43(mm) 
Weight
2kg(without HDD)
Model
MN903PN 
System
 
Main Processor 
ARM Cortex A7 Processor
Operating System
Embedded LINUX
Video
 
Input
16CH(3840

×

 2160, 2592

×

 1944, 2048

×

 1536, 1920 × 1080, 1280

× 

960, 1280 × 720, etc)
Output  
1 VGA, 1 HD
Audio
 
Input
1 Port RCA, support 16CH IPC audio input
Output
1 Port RCA (Linear, 1kΩ), HD output
Audio Bit Rate
64kbps
Audio Compression standard
G711u, G711a, ADPCM_DVI4 
Intercom
support (two-way)
Alarm
 
Sensor Input 
4CH
Output  
1CH
Motion Detection  
16Channel, MD Zones: 396 (22 × 18)
Trigger Events 
Recording, Email, FTP, Snapshot, Buzzer and Screen Tips, alarm output
Display
 
HD Output1
4K(3840

× 

2160), 2K(2560

× 

1440), 1920

× 

1080, 1280

× 

1024, 1280

× 

720, 1024

× 

768
HD Output2
N/A
VGA     
Resolution:1920 × 1080/60Hz, 1280 × 1024/60Hz, 1280 × 720/60Hz, 1024 × 768/60Hz
Display Split 
16CH, 13CH, 10CH, 9CH, 8CH, 6CH, 4CH, 1CH
Digital Zoom  
YES
OSD
Camera Title, Time, Recording, Motion Detection, Event Alarm
Recording
 
Video Compression  
H265/H264/H265+/H264+
Resolution  
4K(3840

× 

2160), 5MP(2592

× 

1944), 4MP(2688

× 

1520 / 2560

× 

1440),3MP(2048

× 

1536),1080P(1920

× 

1080),960P(1280

× 

960),720P(1280

× 

720), D1 (720

× 

576/720

× 

480)
Record Rate  
PAL: 4K@10CH

× 

25fps,5MP@16CH

× 

25fp, 4MP@16CH

× 

25fp, 3MP@16CH

× 

25fp, 1080P@16CH

× 

25fp, 960P@16CH

× 

25fp, 720P@16CH

× 

25fp, D1@16CH

× 

25fp
NTSC: 4K@10CH

× 

30fps, 5MP@16CH

× 

30fp, 4MP@16CH

× 

30fp,3MP@16CH

× 

30fp, 1080P@16CH

× 

30fp, 960P@16CH

× 

30fp, 720P@16CH

× 

30fp,  D1@16CH

× 

30fp
Record Mode 
Manual, Timer, Motion Detection,  Alarm, Smart Event
Playback & Backup
 
Local Sync Playback 
1CH 4K@30fps, 1CH 5MP@30fps, 2CH 4MP@30fps, 2CH 3M@30fps, 4CH 1080P@30fps, 4CH 960P@30fps, 4CH 720P@30fps,16CH D1@30fps
Decode Capability 
4CH 1080P(1920

× 

1080)@30fps
Remote Sync Playback 
YES
Search Mode 
ALL, Timing Video, Motion Detection, Alarm,Tag search, Smart Event, Pictrue, Log
Playback Functions
Play, pause, fast forward, rewind, previous frame, next frame, electronic zoom, clip, audio
Backup Mode
USB Device, Network
Network
 
Interface 
1xRJ45 10M/100/1000M Adaptive Ethernet Interface
Incoming Bandwidth 
120Mbps
Outgoing Bandwidth
120Mbps
Network Functions  
IPv6,TCP/IP, HTTP,HTTPS, UPnP, DNS, NTP, SMTP, DHCP, FTP, DDNS, RTSP, RTCP, P2P, PPPOE
Onvif 
Profile S, Profile G, Profile T
Web Browser
Edge,IE8-11, Google Chrome, Firefox, Safari
CMS Software
Support  Windows 7, Windows 8, Windows 10, Windows 11, MAC OS
Cloud Support
Yes
Smart Phone
iPhone, iPad, Android, Android Pad
POE  
8 x Independent 100Mbps POE Network Interfaces(Output power AF mode 15W per port), 45/78 line order, Total Power Output≤ 96W,  Support Plug and Play, Support network cable extended mode Max. 200M
WIFI  
N/A
Storage
 
Interface Type  
1 SATA Hard Disk Interface (3.5" SATA)
Capacity 
Up to 8TB capacity
eSATA
N/A
General
 
Language  UI
Simplified Chinese, Traditional Chinese,English,  Russian,
Deutsch, French, Portuguese, Spanish, Italian, Korean, Japanese, Ukrainian, Polski, Dutch, Greek, Czech, Arabic
USB Interface 
2 USB 2.0 Interfaces
RS485 
N/A
Power consumption
DC48V∕2500mA ≤ 10W(Without Hard Disk and POE)
Working Environment
-10℃~50℃, 10%~90%(humidity)
Dimension(W×D×H)
 260

× 

230

× 

43(mm) 
Weight
2kg(without HDD)
Model
MN6P3C2H
System
 
Main Processor 
Quad Cortex A53
Operating System
Embedded LINUX
Video
 
Input

32CH(4000*3000, 3840*2160, 2592x1944, 2048x1536, 1920×1080, 1280×960, 1280×720, etc)

Output  
1*HD,1*VGA
Audio
 
Input
1 Port RCA, support 32CH IPC audio input
Output
1 Port RCA(Linear, 1kΩ), HD output
Audio Bit Rate
64kbps
Audio Compression standard
G711U, G711A, AAC
Intercom
support (two-way)
Alarm
 
Sensor Input 
4CH
Output  
1CH
Motion Detection  
32Channel, MD Zones: 396 (22 × 18)
Trigger Events 
Recording, Email, FTP, Snapshot, Buzzer and Screen Tips, alarm output
Display
 
HD Output1
4K(3840*2160), 2K(2560*1440), 1920*1080, 1280*1024, 1280*720, 1024*768
HD Output2
N/A
VGA     
Resolution:1920 × 1080/60Hz, 1280 × 1024/60Hz, 1280 × 720/60Hz, 1024 × 768/60Hz
Display Split 
36CH, 25CH, 17CH, 16CH, 13CH, 10CH, 9CH ,8CH, 6CH, 4CH, 1CH
Digital Zoom  
YES
OSD
Camera Title, Time, Recording, Motion Detection, Event Alarm
Recording
 
Video Compression  
H265/H264/H265+/H264+
Resolution  
12MP(4000*3000), 8MP(3840×2160), 5MP(2592×1944), 4MP(2688×1520/2560×1440), 3MP(2048×1536), 1080P(1920×1080), 960P(1280x960), 720P(1280×720), D1 (720×576/720×480)
Record Rate  
PAL: 12MP@32CHx25fps, 8MP@32CHx25fps, 5MP@32CH×25fp, 4MP@32CHx25fp, 3MP@32CH×25fp,1080P@32CH×25fp, 960P@32CH×25fp, 720P@32CH×25fp, D1@32CH×25fp
NTSC: 12MP@32CHx30fps, 8MP@32CHx30fps, 5MP@32×30fp, 4MP@32CH×30fp, 3MP@32CH×30fp, 1080P@32CH×30fp, 960P@32CH×30fp,  720P@32CH×30fp, D1@32CH×30fp
Record Mode 
Manual, Timer, Motion Detection, Alarm, Smart Event
Playback & Backup
 
Local Sync Playback 
3CH 12MP@30fps, 4CH 8MP@30fps, 6CH 5MP@30fps, 8CH 4MP@30fps, 16CH 1080P@30fps, 16CH 960P@30fps, 16CH 720P@30fps, 16CH D1@30fps
Decode Capability 
 1080P(1920x1080)@480fps
Remote Sync Playback 
YES
Search Mode 
ALL, Timing Video, Motion Detection, Alarm, Tag search, Smart Event, Pictrue, Log
Playback Functions
Play, pause, fast forward, rewind, previous frame, next frame, electronic zoom, clip, audio
Backup Mode
USB Device/Network
Network
 
Interface 
1xRJ45 10M/100/1000M Adaptive Ethernet Interface
Incoming Bandwidth 
320Mbps
Outgoing Bandwidth
256Mbps
Network Functions  
IPv6, TCP/IP, HTTP, HTTPS, UPnP, DNS, NTP, SMTP, DHCP, FTP, DDNS, RTSP, RTCP, p2p, PPPOE
Onvif 
Profile S, Profile G, Profile T
Web Browser
Edge, IE8-11, Google Chrome, Firefox, Safari
CMS Software
Support  Windows 7, Windows 8, Windows 10, Windows 11, MAC OS
Cloud Support
Yes
Smart Phone
iPhone, iPad, Android, Android Pad
POE  
16 x Independent 100Mbps POE Network Interfaces (Output power AF mode 15W per port), 45/78 line order, Total Power Output≤ 200W, Support Plug and Play, Support network cable extended mode Max. 200M
WIFI  
N/A
Storage
 
Interface Type  
2 SATA Hard Disk Interface (3.5" SATA)
Capacity 
Up to 10 TB capacity for each HDD
eSATA
N/A
General
 
Language  UI
Simplified Chinese, Traditional Chinese,English, Russian,
Deutsch, French, Portuguese, Spanish, Italian, Korean, Janpanese, Ukrainian, Polski, Dutch, Greek, Czech, Arabic
USB Interface 

Front panel: 1 × USB 2.0; Rear panel: 1 × USB 3.0

RS485 
N/A
Power consumption
100-240VAC, 50/60Hz ≤15W (Without Hard Disk and POE)
Working Environment
-10℃~50℃, 10%~90% (humidity)
Dimension(W×D×H)
380 x 316 x 51mm
Weight
3.48≤ kg (without HDD)