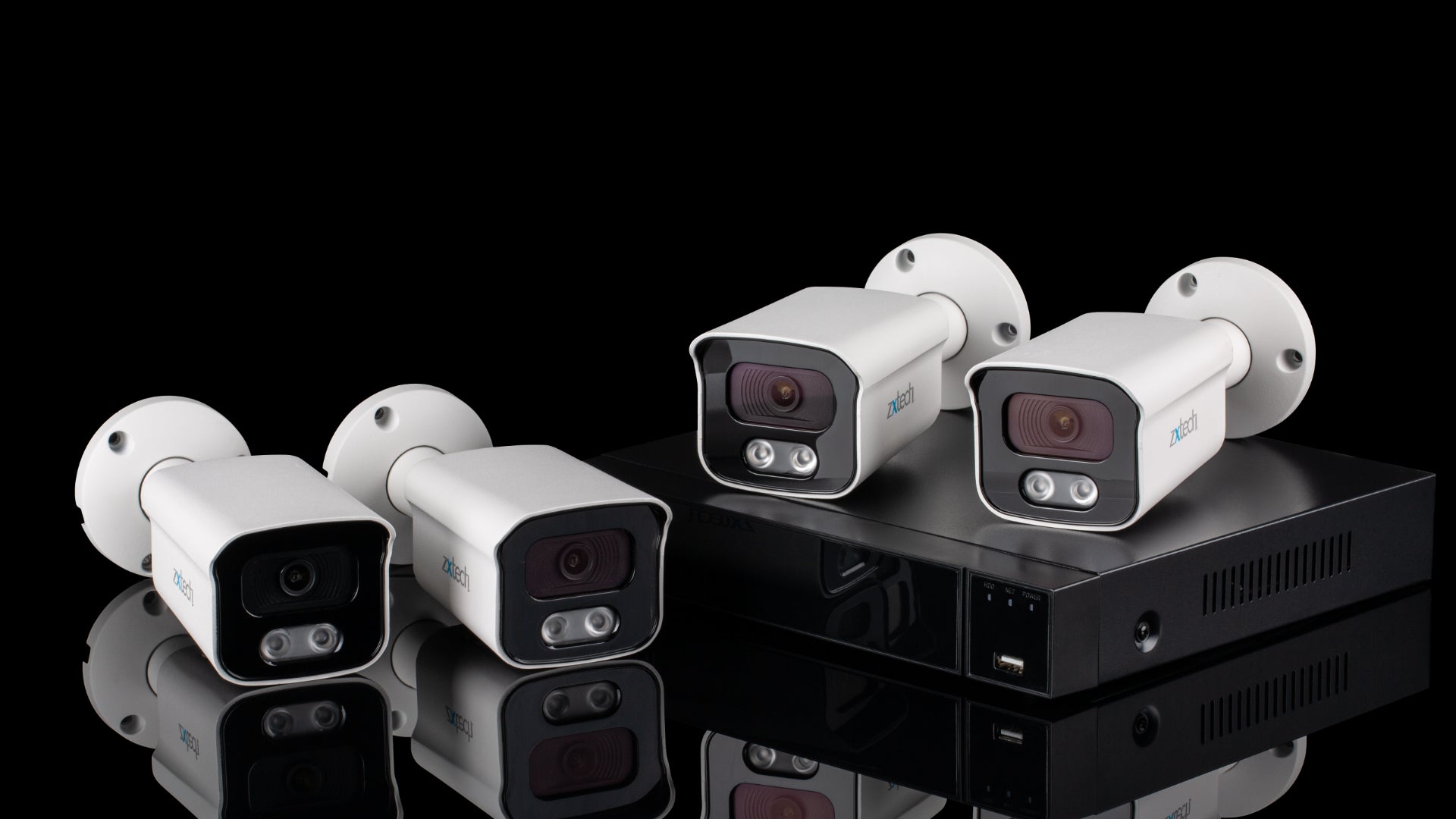 IP CCTV system
What is IP CCTV?
IP CCTV stands for Internet Protocol closed-circuit television, IP CCTV converts images to digital data that can be transmitted over a computer network and the Internet. Unlike traditional CCTV don't require local recording device, but only a local area network. IP CCTV offers greater quality, greater flexibility in deployment and more convenient installation options. IP CCTV offers images with over four times the resolution of traditional CCTV. Explore our IP CCTV Cameras.
What is the primary benefit of IP CCTV?
Flexibility: IP CCTV images don't need to be recorded locally – the data can be recorded centrally or even remotely, providing better security and management. And such recordings can be more robustly stored and archived for future analysis.
Image quality: Amazingly clear surveillance images via advanced HD digital video, both live and recorded, giving clear high-resolution images. You get at least four times the quality of traditional systems making it easier to identify incidents and people. Suspects can be identified unambiguously and details that would be lost to conventional cameras are retained.
Future proof:IP CCTV is scalable and can grow at incremental cost with your business, meaning no major outlays when you expand your operations.
Seamless integration: Integrate with other equipment such as your existing computer network, lighting, gates, barriers, intruder alarms and access control over single or multiple sites. You can build a coherent and comprehensive surveillance system that covers all areas of risk.
Integrated installation: data can be delivered over existing infrastructure; this will minimise disruption during the installation phase and in some cases reduce costs and the need for unsightly cabling.
More than just security and surveillance: Our fully integrated systems are a valuable tool for monitoring your staff, their working processes, and allows you to monitor (and even improve) health and safety practices and legislative compliances. You can even use them to monitor timekeeping.
What are IP CCTV cameras?
IP CCTV cameras are different from previous generation traditional analog cameras that transmit video signals as a voltage, whereas IP CCTV cameras send images digitally using the transmission and security features of the TCP/IP protocol. Traditional analog cameras connect to DVR (Digital Video Recorder) using analogue links, Whereas an IP CCTV cameras seamlessly connect to NVRs through Internet Protocol. IP networks are traditionally IT-based, and IP connections are made over a CAT5 or CAT6 data cable network. IP CCTV camera can be easily integrated with any existing IP network resources; for example, the company LAN, WAN (router) and broadband connections.
IP CCTV cameras are also known as Network cameras which outperform the traditional analog cameras with its built-in features such as automatic motion detection and email alerts. Zxtech IP camera range is a varied selection of innovative products with class-leading quality and reliability. Zxtech is renowned in the world of IP CCTV for using the latest technologies and delivering crisp images, making them suitable for a wide variety of applications from small business security to high-end city surveillance.
What are IP CCTV systems?
IP CCTV systems are increasingly being used, as they are replacing traditional CCTV systems. They can be either wired or wireless, cutting the cost and maintenance, IP CCTV system enables easy access to video data from IP CCTV cameras and can be accessed remotely from anywhere in the world, with an internet connection on any device, including mobile phones, tablets, and laptop computers.
IP CCTV systems offer a far greater image resolution than traditional analogue systems, which is especially helpful in the case of moving targets, as frame rates can be adjusted according to the bandwidth provided. IP camera systems support two-way communication and send customised alert signals in case of predefined occurrences or suspicious activity.
With IP CCTV camera systems it is possible to zoom in on a recorded picture and identify a level of detail not achievable with analogue camera systems. The degree of detail that the IP CCTV system can capture is measured in pixels. The more pixels a camera has, the more detail it can capture and the better the picture quality. IP CCTV systems are an ideal point of sales monitoring with a resolution high enough to identify the money and goods as they are handed over. IP CCTV systems are also ideal for vehicle registration identification especially for moving vehicles. Due to the size of the large picture, the system requires greatly increased storage (hard drives) and increased processing power to archive the video footage.
How to install an IP CCTV camera system?
Zxtech IP CCTV camera systems are very easy to configure - in fact, they auto-detect once you connect the camera to the built-in PoE ports on the rear of the NVR. Simply connect the cameras one by one, waiting each time for the recorder to detect and then show the camera images on the monitor before connecting the next camera.
IP CCTV camera system can be networked and viewed remotely from anywhere in the world via a smartphone or computer. This means that there is no need for you to be onsite, you can log in and control the system from anywhere with Internet access, which is pretty much everywhere now that 3 and 4G cellular networks have been rolled out in countries across the globe. If you want a flexible surveillance solution that does not cost a fortune, we recommend taking a look at the packages that can be found on this page.
Next Business Day Delivery
Place orders before 3pm for next business day delivery. Free shipping for all kits.
Customer service
Reach out Mon-Fri, 9am-5pm. Response within 24 working hours.
Refer a friend
Earn rewards when your friends make a purchase.
VAT Invoices
We always include your VAT invoices in your delivery.
Discover everyday privacy protections.
Privacy is Our Priority.
Privacy is a fundamental human right. At Domar CCTV, it is also one of our core values. Your devices are important to your safety. We sell our products to protect your privacy and give you control over your information. It's not always easy, but those are the principles we believe in.

Face Detection Data
Our cameras come with smart face detection features. Face detection data exist only on your device and can be deleted at any time. It does not go anywhere else. Face detection features can be turned off at any time.

Video Footage
Your security footage is protected by your password and cannot be accessed without it. Once you have changed the default password of the device, only manufacturer can reset it, after confirmation of purchase and identity.

Audio Data
Audio recording can be turned on and off if the camera is equipped with a microphone. It cannot be accessed without your password.

App Access
One device can link up with a single mobile app account. However, you may share it with another account and cease sharing at any time.